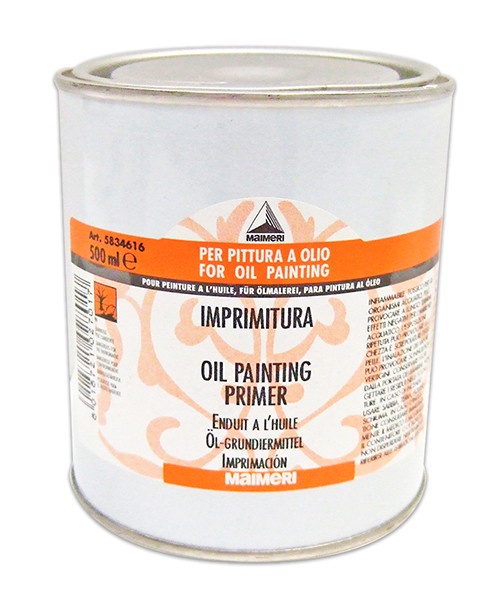 Oil Painting Primer 500ml
---
Maimeri Oil Painting Primer is an artist quality primer used for priming all surfaces for oil painting. It provides a bright white surface and excellent paint adhesion. It comes ready to use, and dries in 24 hours.
The primer can be tinted with oil paint. This permits an endless number of tinted grounds.
Maimeri Oil Painting Primer has high quality pigment and texture. It contains non-yellowing, oil-modified alkyd resin
***
This primer is manufactured with a quick drying Alkyd Oil base. Like all oil based paints, if not used immediately after manufacture, there is a tendency for the oil to settle on top of the paint with time.
The primer needs to be stirred/shaken thoroughly before use.
In addition, and in order to thin the primer, artist quality turpentine can be gradually added and the primer re-stirred.
In any event we recommend that the primer be thinned a little before priming canvasses as it is better to put 2 or 3 thin coats on than one thick coat (we advise that you allow each coat to dry for about 3 days before applying the next one). Obviously the primer should not be thinned down too much because bonding will not occur!
This Primer can be used to prime a canvas for the first time, or to cover and old painting in order to reuse the canvas.
Please note that it is very important to make sure that an oil painting is at least 6 months old and completely dry before covering it with primer.